The dust from the fine Mason Sand can cause cancer. Probably not often in the case of a sand box, but enough to not take any chances.
Crystalline silica has been classified as a human lung carcinogen. Additionally, breathing crystalline silica dust can cause silicosis, which in severe cases can be disabling, or even fatal. Crystalline Silica Exposure - OSHA
The best and least expensive materiel for a sand box is Concrete Sand. It is $19.95 per ton, 1 ton covers 100 square feet 2 inches deep. We have an 8 ton minimum delivery. If you don't need 8 tons we will gladly refer you to the closest reputable company in your area.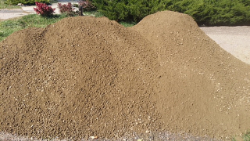 Granite Roadbase - $14.95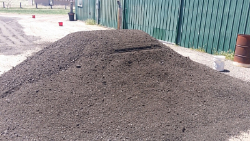 Asphalt Roadbase - $12.95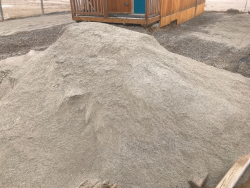 Concrete Roadbase $12.95
Click here to learn about the different roadbase types.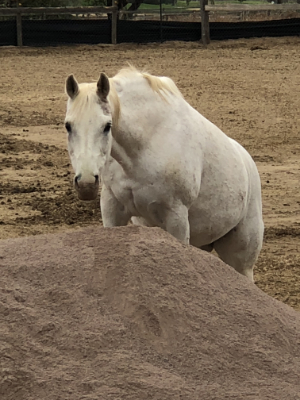 Is your horse this happy about getting new stall material?
Now that cooler weather is around the corner, we are offering anyone using the "Request A Bid" form at sandfoursale.com, a 5% discount, Fall Special, off of regular delivery price. This special can include any multiple loads too. You do not need to be a past customer to take advantage of this offer. This offer is good thru the month of September (2019) only! If you have landscaping that must be done before winter, wouldn't you rather do it when it's 70° that either 32° or 96°?
Call us at anytime for a "no cost or obligation material and delivery bid", or click on the "Request a Bid button". As usual, feel free to call us with your material questions. We are here to help.
Sandfoursale.com can be helpful in several different ways. If you are not sure what material to use for a certain job, give us a call and we will explain the difference in materials. If you cannot meet our 8 ton delivery minimum we will help you source the material closest to you. Our materials are much cleaner because they come directly from the pit not some wet, stock pile.
When the first coming Winter storms hit, we will not have enough trucks to service everyone. If you need material this Fall, get it now when it is easy to handle and spread, not when it is snowing. Don't wait for the coming Winter storms.
In addition we are also offering an additional 2% discount to all returning customers. Did you know that over 60% of our customers are repeat customers? Take advantage of both by ordering today.
Your friends at sandfoursale.com. Thank you.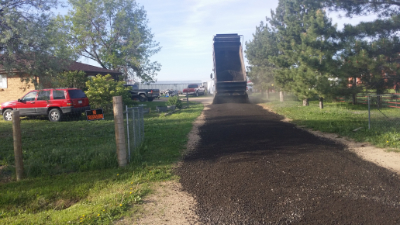 How to Build a Long Lasting Driveway or Parking Area.
Level the area as much as possible. If you don't have a tractor, you can usually do this with a rake or a shovel.
We deliver the recycled asphalt roadbase or recycled concrete. We will spread dump it if possible, at no additional charge. There is no charge for spread dumping. However we must stay clear of any overhead trees or wires.
You may need to knock down any high spots in the material, usually just at the edges.
After spread dumping, get in your heaviest vehicle, usually your car, pick-up or SUV. Drive back and forth over it a few times and you will have a hard surface driveway that should last 3 to 5 years at a 2 inch average depth, 4-6 years at a 3 inch average depth.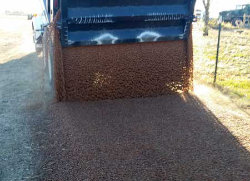 Instead of spending your entire weekend and back spreading material, let us drop spread your materials in place. Save, time, save money, save your back and make your spouse happy all in one transaction. Call us today!
Tonnage Example
Product
Length
Width
L x W =SF
SF / Depth
Tons
Roadbase 2"
120 Feet
10 Feet
1200
80
15
Roadbase 3"
90 Feet
10 Feet
900
60
15
Remember: One ton of roadbase covers 80 square feet, 2 inches deep.
One ton of roadbase covers 60 square feet, 3 inches deep.
Call today for a "no cost or obligation" bid or use the form below.
720-298-0948


We sell a variety of long lasting materials for driveways, parking lots, garden shed pads, tiny home pads, and storage container pads.
The most commonly used and best value in long lasting materials is roadbase. We sell recycled asphalt roadbase, recycled concrete and granite roadbases for these and other uses.
Roadbase keeps the area around your home dry and clean. When applied properly with proper drainage, it will reduce or eliminate muddy patches and establish a condition that will drain water away from your home.
You need a solid surface for a quality driveway. Roadbase is the longest lasting, least expensive material. Recycled asphalt is the best of the roadbases for driveway material. It compacts well and stays compacted, doesn't get dusty, and for this use should last 6-8 years. Remember roadbases are an engineered material. They are made to specification. The asphaltic roadbase spec. provides for a uniform material that is consistent from batch to batch.
The material needs to be at least 2 inches deep to compact and stay compacted, but not over 4 inches thick. 1 ton of roadbase covers 80 square feet 2 inches deep per ton, 60 square feet, 3 inches deep per ton. We can deliver up to 15 tons in a single dump truck load.
We will spread dump the roadbase across your area of coverage, for no additional charge.
Call us today at 720-298-0948 for a no cost or obligation material and delivery bid. We are here to answer any questions about these or any other materials we sell, and to schedule delivery.
Recycled Granite Roadbase- $14.95 per ton
Recycled Asphalt Roadbase - $12.95 per ton
Recycled Concrete Roadbase - $10.95 per ton
Fill Dirt has NO FERTILITY value and shoiuld never be used where you want anything to grow. Never use it in a garden!
Our Screened Fill Dirt compacts well but is not guaranteed to be clay free. Meaning when it gets wet the dirt may expand and damage concrete poured on it or retaing walls built on it. Call us if you have any more questions about this or any of our other materials.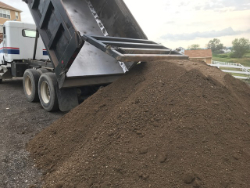 It DOES NOT work for trying to grow anything. Even though it has been screened there is a small amount of rock (and possibly foreign objects) in it.
This is the nature of fill dirt!
Clean Fill Dirt $10.95 per ton.
Click here for more information.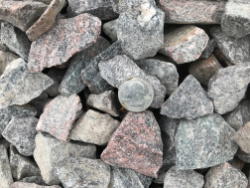 Mountain Granite is one of the most popular types of decorative rock sold in the Denver area.
It contains a mix of colors and is a distinctive landscaping material that will give your landscaping design distinction.
3/4" & 1-1/2" Mountain Granite $32.95 per ton
Click here for more information.
Notice: There are a few notices to observe. They are listed here. All form fields are required. *
Please allow one day to schedule delivery, Monday thru Friday.
Quote is good for 30 days, there is no cost or obligation to purchase. Prices are subject to change without notice, however they are not expected to increase soon.
If you are not sure what material to purchase or how much to specify, you can always call the office and get help. You must order the material in the correct unit prices. Cubic yards is used for mulches and compost, tonnage is used for everything else. There are material calculators on each page. For materials not listed, specify the exact depth, width and length of the area in the comments section. Thank you.